Expedition to the Iztaccihuatl (The White Lady)
Duration: 2 or 3 days
Altitude: 5,220 meters (17,126 feet)
Vertical gain: 1,250 meters (4,101 feet)
Total distance: 14 kilometers (8.6 miles)
Total time: 12 hours (ascent 8, descent 4)
Terrain: intermediate (use of crampons on the glacier)
Five hours of aerobic exercise per week
It is recommended to climb a four-thousander first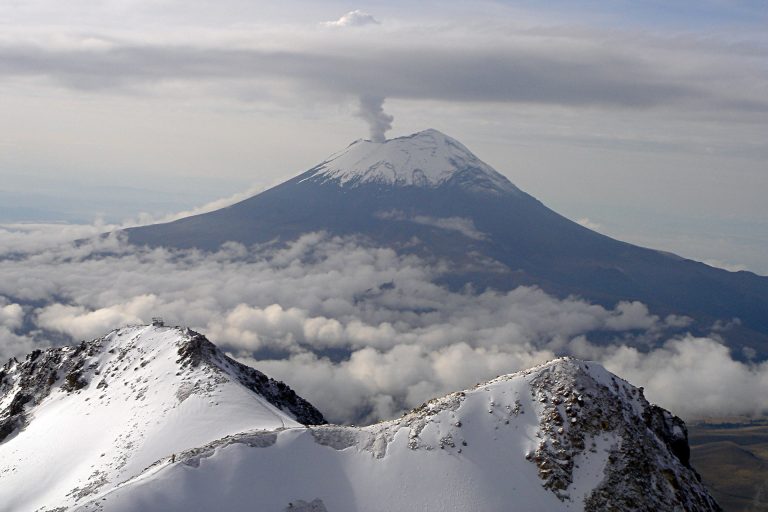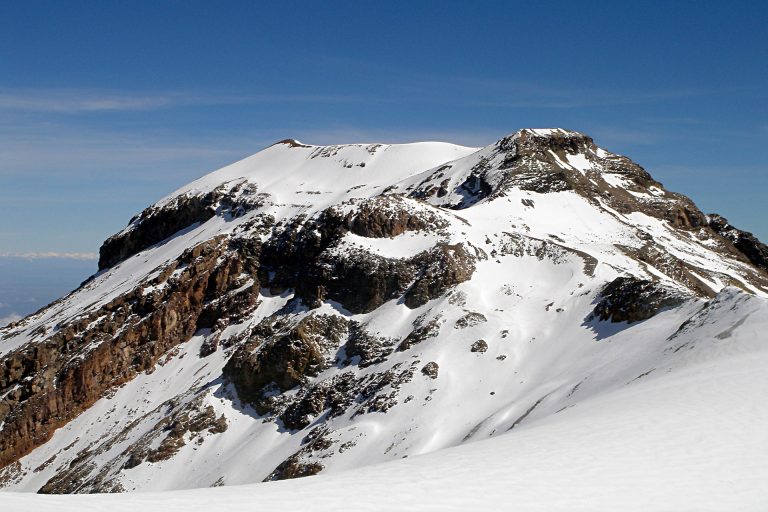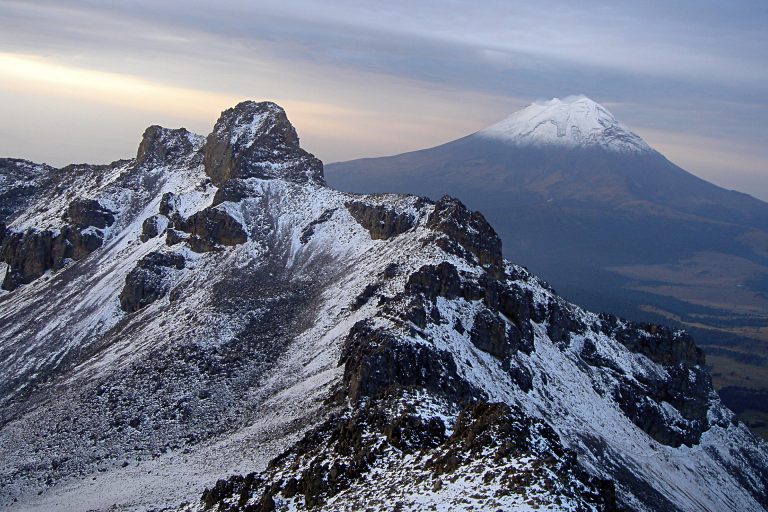 The normal route of this beautiful volcano is relatively easy, although rather long, so you should be in excellent physical condition and sufficiently acclimatized. The vertical gain is 1,260 meters, and the total distance is 14 kilometers.
As preparation, we recommend that you do five hours of physical exercise per week. It is also convenient to climb a four-thousander in the previous weeks.
From Amecameca we take a nice mountain road through the forest, and arrive at the Pass of Cortés, which the Spanish conquistadors used to enter the Valley of Mexico in 1519, on their way to Tenochtitlan, then the capital of the Aztec Empire. We register at the park's office for our two-day adventure.
The first day we do a light acclimatization walk. We will sleep at the Altzomoni hut, at 4,025 meters. Early dinner, equipment check, and sweet dreams!
On summit day we rise at one am, eat our breakfast and begin our trek from the parking lot at 3,970. We gain altitude during the first four hours, and take a little break at the Refugio de los Cien, a hut at 4,750 meters.
We then begin the hardest section of the day, a sustained climb (including some rock scrambling) to the Knee, at 5,050 meters. Around this time we witness a beautiful sunrise.
From the Knee we will do a two-kilometer traverse across the Ayoloco glacier, also known as The Belly, gaining two hundred additional vertical meters. Here's where we make the most beautiful pictures of the day.
From the summit, on a clear day we get to see seven different states of the Mexican Republic. To the south lies the Popocatepetl, or "Smoky Mountain"; to the eat we contemplate Pico de Orizaba. To the west lies the Valley of Mexico, and further away, the Nevado de Toluca.
We begin our descent, and four hours later we reach the parking lot, filled with satisfaction after such a great summit. Two hours later we arrive in Mexico City.
Dryfit underwear
Trekking boots or sports shoes and socks
Gloves
Polartech-like pants and jacket
Mittens
Goretex or similar pants and jacket
Winter and sun hats
Helmet (provided by AdvenCulture)
Harness, crampons and ice-ax (provided by AdvenCulture)
Walking poles
Sun glasses
Sun & lip screen
Sleeping bag
Head lamp
Medium-size backpack (50 l)
Snacks and 2-3 liters of water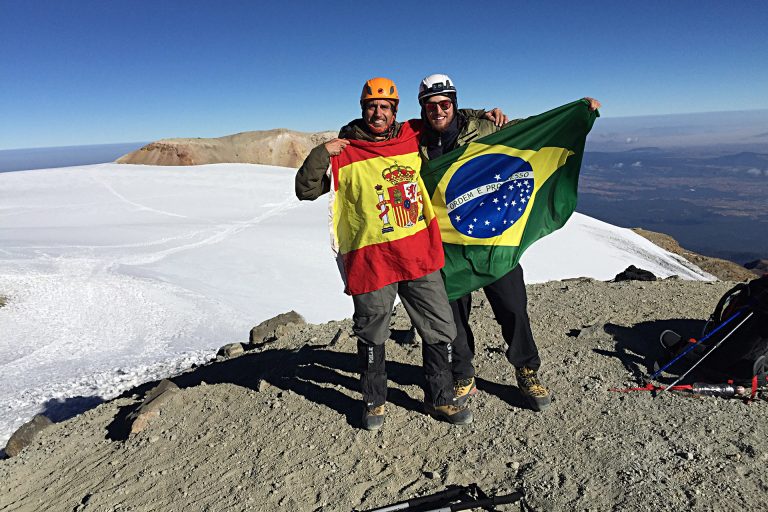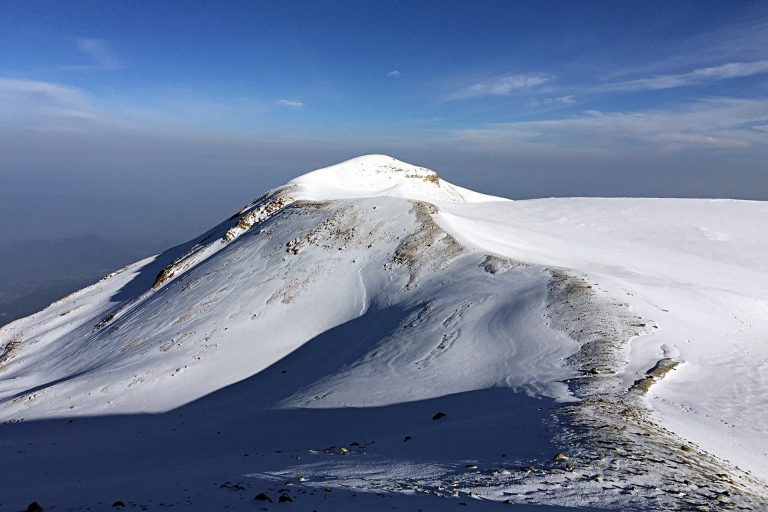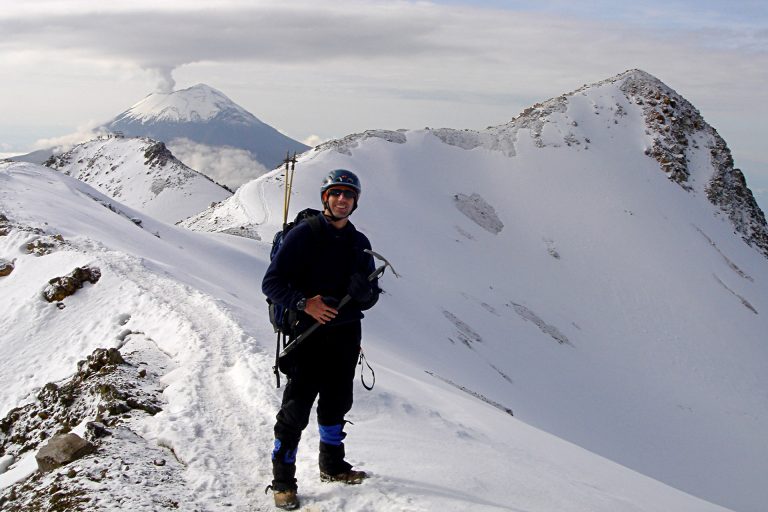 "Our gratitude to our guide Pachi, who has pampered us with great food, protected us in the mountains, and taken the time to bring us closer to the Mexican culture. it doesn't get any better!"
"I went with Pachi to the Nevado de Toluca, and it was wonderful. It was very cold and rainy, with poor visibility, but Pachi's professionalism helped us overcome the difficulties. His experience is remarkable, and his sense of humour, contagious!"
Dominique Strill (France)
"Pachi es un guía de primera categoría, la expedición invernal al Almanzor estaba organizada de forma minuciosa, y en cada paso que dábamos Pachi estaba cerca para animarnos, fue capaz de transmitirnos gran seguridad a todo el grupo, hizo que todo saliese genial. "